Let me summarize my offer to you in less than 60 seconds!
The question you are probably asking yourself right now is this -
Why should I choose to order Site Build It through you verses every other option available to me?
Don't risk trying to build your Site Build It website on your own. Below, I'll try to answer that question for you...
Here's What You Get...
You get unlimited personal Site Build It coaching and support from me for as long as you need it. There is no time limit - if you still need me in 6 months time, that's OK. Nobody else offers this much personal support (see student's comments below)
I will personally answer all of your questions and give you advice on how to get the most out of Site Build It.
You'll have instant access to proprietary videos that will show you exactly how to zero in on the perfect niche market (or the perfect part of your current niche market) right out of the gate - these videos alone could save you a year or more of your time
You'll get instant access to a whole range of Site Build It video website reviews I've done for current coaching students, where I give specific advice on how they can get MUCH more out of their SBI sites
There's also lifetime access to the Site Build It Mastery Private Member's Area containing a growing list of questions and answers from existing members (over 130 and more added every week), plus dozens of audios and videos on critical things that aren't covered in the Action Guide
Plus an ongoing email coaching program totally focused on helping you to build a profitable Site Build It site...
Here's What It Will Do For You...
You'll KNOW how to build a successful Site Build It site because whenever you have a problem or question, I will personally help you to figure it out.
You'll save months (or years) of your time because you won't go down as many blind alleys as you would have if you tried to do everything yourself. If you are new to building a web business, you NEED a Mentor to help you - not a bunch of useless stuff to clutter your hard drive.
You'll choose a niche that you CAN compete in and you'll be able to monetize it sooner because you'll know the exact people you need to attract to make it all work. My videos and personal coaching will help you to follow the path of least resistance. You'll move confidently forward instead of wondering what to do next.
The bottom line is that you won't be alone any more...
Plus you'll get my...
My One If A Kind Satisfaction Guarantee: I'll work with you for as long as it takes to make your Site Build It site profitable. If you keep your SBI site for a full 12 months, and you don't feel I've done everything I possibly could to help you succeed, let me know and I'll refund you the $75 Sitesell paid me as a commission when you ordered. No other affiliate will offer you this...
If you have any questions, please use this form to ask me
I can safely offer this guarantee because in over 5 years of offering personal coaching, I have never had a complaint from a student who actively sought my help and followed my advice.
Here's What To Do Next...
If you want my help and you are new Sitesell customer -
Click Here To Order Your SBI Package
With Guaranteed Personal Coaching Now
Got A Question? Please Use This Form To Email Me
From: Rocky Tapscott
Re: Your New Site Build It Website
If you are serious about using Site Build It to build a successful web business, this could be the most
important letter you'll ever read.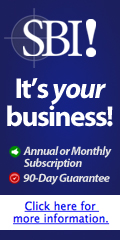 Here's why...
Since I started offering personal coaching and other bonuses to people who ordered Site Build It about several years ago, my coaching students have told me that the most important benefit they have received when they ordered has been the personal support and advice I've given them.
Here's what two of my students said recently about the help I had given them as they built their SBI sites (Note - all the student testimonials on this page are kept on file, however for privacy reasons, some website URL's have not been included at my students request) -
__________________________________________________
Hi Rocky,

I can't thank you enough for all the help and encouragement you've given me.

I know I don't have you all to myself, but you respond so personally, that I often feel like I'm your only student ;-)

Have a great day!

With kindest regards,

Kirstyn Sierra
www.birth-baby-and-mom.com
__________________________________________________
Here's Kirstyn's story...
Kirstyn, purchased Site Build It a while back and after coaching her over the last year or so by email, we have become great friends even though we've never met in person.
Her SBI site is taking shape nicely and as she built her content, she realized that she knew enough about pregnancy and motherhood to create a membership site (or course), which shows other women who were trying to conceive how to get pregnant more easily.
Once she had the course outline ready, she asked me if I would like to work with her to help her market her new membership site as a partner.
Having seen the quality of work she has done on her SBI site, I was able to juggle some things and find time in my schedule, so we are now going through the process of launching her new monthly membership site together.
With Kirstyn's incredible pregnancy knowledge and some good marketing, we are quietly confident that her new site will be able to help hundreds of women who are desperate to become pregnant discover the joy of motherhood that they are dreaming of.
Also Rob sent me this...
__________________________________________________
Hi Rocky,

I would to thank you for your help and assistance in setting up our new website. A recent enquiry through the site has resulted in us being awarded an audit contract worth A$15,000.

Of course the audit is just the initial stage in the process, and if we are awarded the implementation contract, its value would be approximately A$60,000.

We receive regular enquires for our free report and the results so far have been very encouraging, having recently signed another contract worth A$40,000.

Thankyou so much for your help and assistance to achieve these great results

Sincerely,

Rob Ross
Consultant
Queensland
__________________________________________________
Important Note - Rob's experience is NOT typical of what my coaching students achieve and I am not saying that you will achieve similar results. She has an existing offline business and does high end consulting for clients with big marketing budgets. If you do not have this type of business, you will NOT get the same sort of results - her results are exceptional.
Here's Rob's story...
Rob's family have been friends of ours for many years, and she and her husband came to me wondering if a website could help them generate more clients for their consulting business.
After looking at what they were doing, I recommended Site Build It because of it's proven results, and they built a small (about 20 pages) SBI site using a small amount of guidance from me by email and telephone.
I advised them to create a short report which people download from their website in exchange for giving Rob their name and email address, and this report is responsible for introducing their company to new clients from all over the world.
Their little site now ranks in position one AND two, above their industry body's website, in Google and Yahoo for their main keyword and several others.
They have a high value consulting business, so each client is potentially worth thousands of dollars to them, and their website now creates as many clients as they can handle without any paid marketing at all.
An added bonus is that now they are seen as authorities in their industry and get many referrals from happy clients who initially found them through their website.
The testimonial above is from very early on, and after talking with Rob recently, I know they are doing very well simply by using Site Build It and listening to my advice a couple of years ago.
This is the sort of power a SBI site can have for your business if you set things up correctly...
As I said, I cannot guarantee you any specific results. Your success is ultimately up to you and while I will help you as much as I can, not every one of my students succeeds.
The bottom line is this...
What new Site Build It owners (at least those who are ready to succeed) really want and need is specific advice from somebody who's been where they are and succeeded...
Some Comments From Just A Few Of My Current SBI Mastery Program Members...

Hi Rocky,


I'm very inspired by how you monetize these pages, and now understand what you've been telling me about how to do it.

Everything you've given me over the last few days has helped me immensely to focus more precisely on what I need to do now.

Your coaching and support have been superb, the very best. Those times when I have been in serious difficulties with one or another of the issues that arise when building a site, your generosity with your time and expertise never failed to help me solve the problems.

Always inspiring and encouraging, that kind of support makes possible for me to feel I'm building a successful web site I will be proud of.

Thanks again, my friend, for everything.

Cheers to you,

(Ms) Noel Wynn



Hi Rocky,

Thanks again for your input. Boy am I glad I signed up for SBI through you!!! You've been a God send!

Dave Seidler

Dear Rocky,

Has your coaching been helpful to me?

Absolutely!

Without your help, guidance and support I would not be where I am today with my site. All of your advice has been pure gold. I took baby steps and you held my hand. I am now walking on my own but I will hold you in high esteem forever. Thanks ever so much Rocky.

Kerry
www.allaboutdrawings.com

Hi Rocky,

Thank you for such a detailed answer! Great stuff.

Looks like I have some work to do. I will back in touch when I get a bit farther down the path.

Thank you again,

Peter Toth

Dear Rocky,

Wow! Thank you for all of this information - I will look through it all carefully. You have given me inspiration to go on when I was beginning to think there wasn't anything I could possibly be qualified to do on the internet that hadn't been oversupplied already! I will find something. I know I have the BAM and now I've got the system (SBI!) and a great mentor!

Good to know you're a fellow Aussie too.

Warmest appreciation,

Tabitha Robortella

Hi Rocky,

I do want to thank you so much for your quick and thorough responses to my questions. I am amazed at the amount of information you manage to deliver. Your written feedback and formal lessons are terrific, but I also find that your videos are especially well put together, clear, helpful, and instructive.

You give an awful lot of personal attention that can never be automated - and beyond the initial fee, it's all been FREE!

Thanks for everything - I mean it!

Paul Rademacher

Thanks Rocky,

You don't know how much better I feel now that I've gotten some great advice from an experienced marketer as well as a Professional SBI marketer.

It is good to know that I've joined a program where the members are kind enough to help out their fellow members. I will not forget you and later on if I ever have personal contact with Ken Evoy I will certainly let him know how kind and helpful you were to me.

Roger Bell

Thanks again, my friend, for pulling me up short on this one. What you shared made very good sense, and I don't want to shoot myself in the foot - plus my time could be spent more constructively.

With warm appreciation,

Kirstyn

I cant help thinking about all the time you spent with me,
this a good example of you never Know Where It Will Lead Too.
Good content comes back to reward you.

Cheerio Jim

Hi Rocky,

Thanks so much for your generosity, and for your feedback.

I feel fortunate to have been a part of your coaching "family".

Elena


Hi Rocky,

Thanks. What a simple and brilliant idea! Duh.....that never would have occurred to me, I've been so stuck in "paralysis by analysis," trying to decide on my SBI topic.

You have been a wonderful resource and always reply to questions very quickly. I couldn't have been happier with any other SBI affiliate

Thanks again!

Glenna Bailey

Hi Rocky,

All I can say is that your coaching has been beneficial to me.

Thankyou,

Ray Oberreuter


Hi Rocky,

I have found you to be a big help to me as I am completely new to this and had no Idea what I was doing. I still have a ways to go but know I can count on you to continue helping me get there.

Barbara King


Hi Rocky,

I just wanted to let you know that since you helped me optimize and submit my site to Yahoo and MSN (using my blog) 6 weeks ago, I've noticed an increase in the number of highly ranked pages I have in these search engines and my daily visitor numbers have increased by more than 50%

Here's some examples from Yahoo - I have one page ranked #1 out of 5,370,000 results, another ranked #2 out of 1,200,000 results, and two pages ranked #6 and #7 out of 31,700,000 and 23,200,000 pages respectively.

In total, I now have 15 pages in the first 5 spaces with Yahoo!

At MSN I have two pages ranked #1 and 2 for one keyword out of 170,027 results and another page ranked #11 out of 1,800,000 pages.

Thankyou for helping me achieve these terrific results.

David Pix

Hi Rocky,

You are a genuine web coach who practices what he preaches!

You have already helped me so much with all your free advice and lessons in your email courses. I appreciate how you have already given me significant SBI training beyond what the action guide lays out.

I still need to redo my photos to get them properly up on google image searches. (one of your emails was very instructive.)

I also read an MLM article you wrote that was "right on" as far as attracting "product endorsing" folks rather than getting a bunch of tire kickers through hyped up marketing pitches.

Thanks again Rocky for your personal attention and personal response to my correspondence.

Regards,

Reverend Bill McBride




Rocky,

Thanks so much, for your input. I took a serious look and thought about what you had to say. Your thoughts made me think about the future of my web site as I continue to provide content.

Ever since I've worked with you, I've learned quite a bit about what makes a web site a success.

Things are still a bit new to me, but over time I'm sure if I continue to apply what I've learned, my web site will be a great success.

Thanks Rocky

Regards,

Samuel Whatley
And if you order Site Build It from one of the links on this page, and you qualify as outlined below, that's exactly what you'll get from me. Not a heap of useless ebooks and software, but honest, in the trenches advice on how to get the most out of SBI.
In fact, I heard one well respected marketer refer to these sort of 'bonus' packages during a recent product launch when he said 'beware of The Crap Stack' :-)
Of course he was referring to people who pile up a heap of unrelated products and software they've purchased resale rights to, who then tack them on as 'bonuses' trying to convince you that their package is the best. Give me a break...
I don't want to insult your intelligence by doing that, so instead you'll get coaching and support from me personally as you build your SBI site, so you can break through the roadblocks and problems that always come up when you start something new and help you to get your site up and running (and earning you an income) as quickly as possible.
Here's the deal...

If you buy Site Build It! through one of the links on this page and you qualify, I'll give you unlimited email coaching, mentoring, advice and support so that there's practically no way you can fail to build a profitable SBI! website...
I won't load you down with a whole stack of ebooks, software or products that don't have anything to do with getting the most out of Site Build It. All these will do is distract you from what you should be doing
Instead, I'll personally work with you and help you to succeed with SBI (see some of my current students comments on the right and below)... for as long as you need me, and it doesn't cost you any more.
The truth is you can buy Site Build It from any one of thousands of affiliates online, so what's different about buying it through me?
For the same price as buying SBI from anyone else or directly from the Sitesell site, you'll get some of my time and experience...
What's the time and guidance of a Site Build It and marketing expert worth to somebody just starting to use SBI?
I know when I started building my first SBI site I would have loved to have been able to email somebody who'd been there and worked it all out already to get some help and advice on what to do.
Instead I had to struggle through the Sitesell Forums looking for answers. Now don't get me wrong, the Forum is great and there are a lot of helpful people there trying their best, but it can be a HUGE time suck trying to find what you are looking for.
I can help save you from some of the frustration you'll no doubt experience, guide you while you are building your new site and show you how to build a profitable website that works well in the fastest possible time. You (or somebody who works for you) will still have to do the work, but I'll be there to guide you along the way.
And if you haven't done any of the things mentioned above and you do qualify as a new Sitesell customer, I'll give you -
Unlimited personal email consultations over the next 6 months (or longer if you need it - there is no time limit) where I will personally answer all of your questions for you.
I'll PERSONALLY answer your email questions, often by using an audio or video reply, so that you completely understand what steps you need to take to solve your problem.
I currently charge $200 an hour for one on one consulting and this consultation could be worth a lot of money to you if it helps to set your site up on a firm foundation right from the start (or avoid making a critical mistake).
Imagine having an experienced SBI Webmaster mentor and guide you through the initial stages of your new websites life... Value $2000
The 4 Keys To A Successful SBI Site video series. After spending the last four and a half years coaching hundreds of Site Build It users, and answering literally THOUSANDS of questions from both new and experienced SBI'ers in the process, I've noticed something quite profound.
Based on what my coaching students have told me, and my observations of hundreds of Site Build It sites built by people all over the world, I've found that the success or failure of your SBI site could literally hinge on simply getting four critical factors right.
Miss one of these key success factors (as long as it's not the MAIN one), and you may do OK. Miss two or more of these factors, and your online business is virtually doomed...
As part of the ongoing development of the coaching program I have developed for my students, I recently created a series of videos called The 4 Keys To A Successful SBI Site where I shared my thoughts and observations with my group of coaching students.
Here's what three of them had to say (all of the customer comments on this page are kept on file. I have not included some websites or last names to protect the student's privacy)
Your vids were great! Rocky, it's your Coaching system and your sincere interest in helping all your students try to succeed that make's SBI work. I'm very fortunate and blessed to have this opportunity to be your student again.
George Corhern
Fantastic videos Rocky. Thank you very much. Even though I am half way into building my site and am not looking to do niche selection, I am going to benefit so much by thinking on the lines of trying to find the best buyers in my niche.
Regards
Yogi Shinde
Your 4 keys is wonderful and I'm only on the 3rd video. It was heartening to see how you progressed (digressed?) through the internet marketing adventure.
I finally had a epiphany this morning at 3am and your 4 components confirmed that I am on the right track. I can't wait to see the rest of the videos and to hit the Brainstormer tool. Gotta go...
Kate
I received many emails from both long term students and people completely new to SBI, and they all had similar comments.
The 4 Keys To A Successful SBI Site videos have helped them to more clearly understand what they are doing well with their sites and why it's working, but more importantly, where they are currently doing wrong, and what they need to do to fix it. Value $47
Potential Joint Venture opportunities to work with me to bring your product to the market. I can't guarantee this to everyone, in fact only a small number of people will qualify, but if your product is right and I have the time, we could work together to create a product launch that will elevate you to 'guru' status in your niche... Value Potentially Priceless
You'll get free instant access to my brand new Site Build It Mastery Coaching Course by email, where I personally guide you step by step through the process of putting your first Site Build It website together the 'right' way.
Every few days you'll get a new lesson, giving you guideposts to follow, little known resources that few people know about to help you, bonus eBooks and tutorials I've written and specific tasks to complete to keep you on track towards building your very own SBI site.
This course will make sure you won't be heading down countless blind alleys and wasting precious months chasing shadows.
I wrote these lessons to answer many of the questions that students and clients asked me as I helped them build their SBI websites...and you'll never see it advertised anywhere else. It's my free gift to you when you buy SBI through this page...Value $297
And if you'd like to get a glimpse of what the SBI Mastery Coaching Course is like...In addition to my personal email coaching and the SBI Coaching Course, you also get free access to my new Site Build It Mastery Private Member's Area, where I answer dozens of questions other coaching members have already asked in detail.
This page also includes a growing number of Camtasia screen capture videos of many of the important parts of building your SBI website, along with Audio answers to many of my current student's questions.
To watch one of the Camtasia videos to see what they look like, click on the 'Play' button below Twice!.
To listen to one of my audio answers, click here.
You'll find yourself returning to this valuable resource again and again for instant answers as you build your new site. I've spent over 100 hours answering these questions for my students, so at $200 an hour, you can work out what this is worth...Value? Let's be conservative and say $500 because you won't need all of these answers (less than 5 bucks an hour for my time...)
In addition to my personal email coaching and the SBI Mastery Coaching Course, I'll also send you a complete library of eBooks and other printed material valued at over $300 which I won't go into here to save you time...truth is, the bonus you really need and are going to be the most thankful for is the coaching and support.
To see a full list of the bonus ebooks you'll receive if you take me up on this limited offer, Click Here (opens in a new window so you won't lose your place)
And also before we continue, I've created two short (3 minute) screen capture videos that give you a sneak-peak inside the Site Build It Mastery Member's Area.
To watch them, please turn up your speakers and visit this page. (Also opens in a new window)
February 2010 Update: The Site Build It Mastery Coaching Course that's included in this offer now has 60 lessons. To see what's covered, visit this page. (Opens in a new window)
OK Rocky, I'm ready, I want to try Site Build It! Risk Free and get the bonus coaching and support Now...
If you add it all up, you get over $3000 in exclusive bonuses. But what's all this coaching and assistance really worth to you?
Truthfully, it could be worth a lot...here's what Jeanne Dockins said -
Hi Rocky,

You are truly amazing! One of these days I hope to meet you at a one of

Robert Allen's wealth retreats. You so generously have given me such wonderful information without even knowing you will receive a dime of commission.

I am so anxious to read your information as I am a newbie to website marketing and design and welcome all the step-by-step help I can receive.

Thank you ever so much for just being you. I wish you abundance and many blessings in the future.

Warmly,
Jeannie Dockins
And this from Marian Dyer...
Hi Rocky,

Wow! thank you for so much wonderful input. I understand everything that you are saying ... it's funny how it all makes so much more sense from someone else's input:-) You are A-M-A-Z-I-N-G.

I will sooooo listen to your advice. I've just re-read your reply and I'm so happy with it that I thought I'd thank you again:-) I'll make the changes (and any others that occur en route) tomorrow. You are a 'wee star' as we say here in Scotland (and it doesn't matter if you're 6 foot 6 inches - or metres or whatever!)
Marian Dyer
Kate sent me this just recently...
Hey Rocky,

I just sat down after a long day and my first thought was that I deserved a treat. So I headed out to your SBI Mastery course.

I can not tell how much I enjoy your presentations, both audio and textual. I get something beneficial out of each section. Best money I've spent on anything to do with website design and delivery.

Thank you.
Kate
And this from long time student Marguerite Bonneville...
Rocky has been my mentor from the day I purchased my first Site Build It! web building package.
Anyone lucky enough to have him lead them through this process will soon realize they couldn't have a better, more knowledgeable guide.
Marguerite Bonneville
www.hidden-wealth-keys.com
Here's a note I received from Ben Michalski...
Hi Rocky,

I have never experienced such professional and friendly responses from anyone on the net to this degree since I have been using it for the past three years. I am totally blown away. It kind of restores one's faith in a system wrought with suspicion and apprehension.

Can't thank you enough Rock, for someone to take the time to give me this kind of feedback is beyond words, I can't believe all the people I have met since starting SBI are warm, concerned, generous to a fault and unbelievably skilled and professional....the standard that's being set by people like you is nothing short of amazing. You sir, are a credit to the internet. I'll keep you posted as the "evolution" takes place.

Thank you so much for your newsletter...I have never said that to anyone. Your info is just plain honest. No bull crap at all...no hidden agendas AND the information is absolutely hands down the best on the net. I am so glad I see your letter every week and look forward to it. Feel free to use this email as testimony to your professionalism...

Ben Michalski
Here's what Robert Springer said about the support I'd give him so far...
Hi Rocky,

I purchased my SBI! package from you last month and just wanted to commend you on the way you do business.

I enjoy seeing your entrepreneurial resourcefulness in action! You do great WebPages, e-books, newsletters and emails. They are all very helpful and well done.

I can see how your own success ties in nicely with others that you are generous enough to share your knowledge with. Keep up the inspiring work!

Robert Springer
And I just received this from Chris Bester...
Just a note to say I am impressed with Part 12 of your email coaching course and....it's nice to know that I've got someone that I can rely on.

I'm sick and tired of all those gurus that dish out idle promises and when you need them they are nowhere to be found, having made a packet out of me, regardless. Despite our time differences I find that you are always helpful.

It's extremely nice to have a mentor like you who really cares.

Chris Bester
So there you have it. The best all in one web building, hosting, optimization and online marketing solution available, plus email support and coaching from a Site Build It Expert to help you make the most of it for yourself.
You're welcome to shop around of course to check out what other affiliates are offering ... but will they coach you, and do they have the testimonials to prove it?
And of course, all of this coaching and bonuses is in addition to everything that Site Build It gives you. Now I'm assuming you've visited the Site Build It sales page already and understand exactly what SBI is and does.
But if not, and you'd like to know the who-what-why of SBI! and exactly how it changes people's lives, they have prepared a 3 minute "video shortcut" to walk you through a quick
tour of the Site Build It system.
Click this link or the picture on the left now to take a look at this quick VIDEO tour (opens in a new window) of Site Build It and how it works.
It's the fastest, most visual way to understand how you, too, will succeed beyond all others and why nothing in the world exists like SBI!.
A limited number of memberships available
First - This offer is only available to new Sitesell customers....do you qualify?
Unfortunately, many people don't.
To put it simply, if you have never -
Become a Sitesell Affiliate...or,

Purchased a product from Sitesell...or,

Downloaded Sitesell's free Make Your Content Presell ebook...or,

Visited the ILoveSBI Video site... or,

Visited Ken Evoy's Blog (and if you haven't yet, you should, click here to check it out - page opens in a new window)...or,

Registered with Sitesell's Value Exchange...
...you should be eligible for this offer.
Second - Due to the nature of the personal advice and support you'll be receiving, I have to limit numbers on a first-come first-served basis. This is to ensure that existing members and each new member can get the very best advice from my limited time, so I must limit the number of new Site Build It Mastery members to just 7 per month.

The point is, if you would like to join me, I urge you to do so right away. This offer will expire as soon as I reach 7 new members this month.

What if you decide to try Site Build It and the Site Build it Mastery program and then change your mind?

No problem.

I want you to be happy with your membership and SBI. If you decide to join and then change your mind, that's fine. If you cancel within the first 30 days of your Site Build It membership, you'll receive a full refund for every penny you paid. And if you cancel at any time during the first year, you'll still be able to receive a refund on a prorated basis.

I honestly don't think you're going to get a better deal than this as you start out on your SBI journey. And if you've already read any of my email messages or courses, or asked me a pre-purchase question, I'm sure you know what I mean.
In fact, I'm so sure I can help you that I'll give you...
My One If A Kind Satisfaction Guarantee: I'll work with you for as long as it takes to make your Site Build It site profitable. If you keep your SBI site for a full 12 months, and you don't feel I've done everything I possibly could to help you succeed, let me know and I'll refund you the $75 Sitesell paid me as a commission when you ordered.
Just try to get that from any other Sitesell affiliate :-)
I can safely offer this guarantee because in over 5 years of offering personal coaching, I have never had a complaint from a student who actively sought my help and followed my advice.

To take advantage of this limited-time opportunity, click here.
Why am I making this offer...
Good question. Actually, there's two reasons.
1) I love receiving emails like the ones above and on the right from happy students. SBI has given me the freedom to stay at home and work for myself, and I get a real kick from helping others to do the same thing.
2) Because I have a LOT of renewal sales each month, and if I don't continue to sell new Site Build It packages, I don't get paid for them!
That means that you can benefit from Sitesell's policy of making affiliates continue to make new sales in order to get renewal commissions, but only if you are one of the first 7 people to order each month.
After that, I can't guarantee that the bonuses and coaching will be available, at least until next month... if at all.
Here's What To Do Now
1)

Enter your First Name and Primary Email Address into this form so I can send your bonuses and coaching instructions to you...

2) Order your Site Build It package by clicking on this link and take it for a Risk Free 30 Day Trial.

3) When you get your order confirmation email from Sitesell, simply email me by using the Contact Form and let me know your order number to make doubly sure I know it was you who ordered.

This step is critical because Sitesell have recently stopped giving affiliates any information about buyers except for their first name. If you don't let me know you've ordered and tell me your order number, I won't be able to send you your bonuses or help you with your site.

Once you let me know and I've confirmed your order. I'll email you the download link for all your bonuses right away, plus I'll answer any initial questions you may have to help you get your new site up and running as quickly as possible.

4) Use the Brainstorm It module to research your options and test drive all the other SBI modules and tools for a full 30 days and put the system through it's paces.

Go ahead and ask me 10, 20, or even 50 questions and get the answers you need from me personally. Then read through the private member's area and coaching course to see if Site Build It is for you.

If it is, great, you're on your way to a creating a profitable web business.

If it's not, then simply grab a refund and you owe nothing.
Not sure if you qualify?
If you aren't sure whether you qualify or not, and you'd like to find out before you order, please email me using the Contact Form before you order Site Build It (it's too late afterwards) and I'll let you know.
And remember, SBI has a 100% money back guarantee...
And of course, if you would like to get in touch with me to talk about whether Site Build It! really is right for you, or if you've visited the Site Build It site and have a question you'd like to ask, then feel free to either email me using the Contact Form or call me (in Australia on 07 5543 3212 or from overseas on 617 5543 3212)
NOTE: It's best to email me before you call so we can work out the best time to chat.
Look, by now you've made a decision:
A) Either you don't like what I've got to say, or...

B) You like what I've got to say and you know that listening to me could help make you a truckload more money.

And if (B) represents how YOU feel, then you need to take some serious action right now. I mean, imagine what I could teach you over the next few months if you have me coaching you along every step of the way...
Bottomline: I MIGHT just know a couple of things which could be of value to you, don't you think? Be aware though: I don't pussyfoot around. I give it to you straight. You'll be entertained, sure. But you'll also be confronted.
Click Here To Order Your SBI Package Now
Oh, and one last thing.
No matter whether you decide to buy Site Build It! from me or register with Sitesell as mentioned above or not, I wish you all the best in your Business and your life. And as you build your SBI site, remember the secret I shared right at the start of this letter.
People don't just want information, THEY WANT ADVICE. If you build your site around this principle you'll likely do very well. If you simply give people more INFORMATION, you could very well be wasting your time...
Take care, and best wishes,
Your Site Build It Coach

P.S. Remember, Site Build It Mastery membership is only open to 7 students each month. To make sure you grab your spot – please Click Here Now to grab this offer.
P.P.S. If you go it alone without an experienced coach and guide, you may still succeed with SBI because the system is very good, but is it worth the risk? If you'd like an expert to personally advise you every step of the way, this is your chance.
You can see what others are saying by the comments on this page - no other Sitesell affiliate can offer you PROOF like this; let me help you too. Click Here Now to grab this offer
Please Note: I use and truly love Site Build It. I recommend it because it works. I earn a referral fee if you order through one of the links to this page. It's a nice bonus for telling you the truth and spreading the word of a product that changes lives by building businesses. To thank you for ordering through this page, I will personally coach you until you succeed...
Frequently Asked Questions
Why are you offering free coaching with SBI - what's the catch?
While many other affiliates offer ebooks, recordings, rebates or whatever, I've found that what most people want and need is an experienced person to guide them along the right path when they first start building their SBI sites.
What you DON'T need is more stuff to read or audios to listen to; you need somebody who's been there before to answer your questions, mentor and guide you. As the testimonials above show, that's what I love doing.
Why don't you offer a rebate on the purchase price?
As I mentioned above, what most people need is a little personal coaching - even rebating the full $75 affiliate commission back to purchasers doesn't help you there.
Truthfully, what difference is an extra $25 or $30 going to mean to you if you waste a year of your life trying to build a site the wrong way and give up?
Fact is, any decent SBI expert will charge you at least $100 an hour for coaching. For a limited time you'll get mine free.
The email coaching course you'll be receiving is ongoing so I'll be with you for as long as you need me giving you tips on how you can extract maximum leverage from your efforts. Isn't that worth more than a small, one-time 30 buck rebate?
I see one affiliate is offering thousands of dollars worth of products as bonuses. Why should I choose you instead?
Yes that's right. Other affiliates are offering all sorts of stuff to try to get you to buy SBI through them. For the most part, all they've done is spend a few bucks on cheap resale rights products that they then offer as 'bonuses' (I've seen one guy offering over $10,000 worth of this crap - yeah right) if you order SBI through them.
Problem is, all this stuff does is distract you from what you should really be doing which is building your site and following the SBI Action Guide. Plus all of these products offer additional products inside (stuff you most likely will never need) that you can buy which then gets you more distracted and confused. The end result is often failure, and unfortunately most people just never know how close they came to success...
What do you feel you really need? 100 more ebooks on all sorts of unrelated topics to read, or the help of an experienced Site Build It webmaster and mentor who will personally help you to succeed? It's up to you, but I think you already know the answer
How long will this offer be available, I'm not quite ready yet?
I can honestly say that I'm getting close to reaching capacity. Once that happens I'll be removing this page and will focus on helping my current students. If you want personal coaching, guidance and support, now's the time to get it...
Do I still get everything from Sitesell, the support, the tools, the forums, if I buy through you instead of straight from the Sitesell Site?
Yes. Everything is the same on their end. The only difference is that you'll only get the personal one-on-one coaching from me. Nobody else offers it as a free service when you purchase SBI.
I've read somewhere that there's a way to get Site Build It for Free. How can I do that?
The 'big secret' on getting SBI for free is simply this - you buy SBI yourself, become a Sitesell affiliate, then get three friends to buy SBI through your affiliate link. The commission you receive and a 25% rebate from Sitesell means your SBI package is free but only for the first year. After that it depends if your friends keep their sites and other variables and your site may cost you full price into the future.
This a marketing tactic some affiliates are using to trick people into becoming Sitesell affiliates so that no matter when a person buys SBI they get paid the commission.
Of course, nothing is really free, especially not something as great as SBI.
OK, if you've read this far you must be serious. If you think that SBI! is right for you and you want my help, then Click Here Now to grab this offer.